I finally succumbed to my expensive desires and brought this product.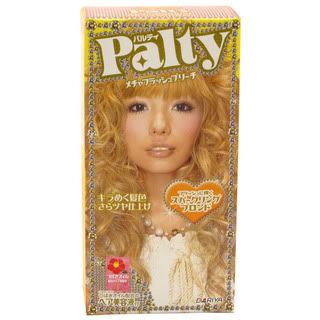 Palty Hair Bleach in Sparkling Blonde
Palty is one of Japan's most popular hair dyes for teens. The hair-dye that I purchased (named Super Flash Sparkling Blonde) is the lightest shade of blonde in Japan Dariya Palty's Bleach & Hair Color Collection. You can visit the company's site at: http://www.dariyacosme.com/
I first heard of this product from soompi.com where there were many raving reviews on the Palty collection. What really made me want to purchase this product was the fact that the Palty is especially made for Asian hair (made in Japan, duh!). Its hard to find a good hair dye for Asian hair because, living in the US, many hair dyes are targeted towards whites.
I brought the hair dye online for a little more than $15 (yeah, I know, pretty expensive for hair-dye. But then again, it
is
a product of Japan, and most Japanese products are expensive XD), and it came in the mail several days later. I was really anxious to try it!
---
The Review
Lets start off with the packaging...
The packaging for this product is really cute! I think that packaging like this would really attract people to buy the product. Packagings for US brands hairdyes are just so boring! (example below; I actually tried both of the hair dyes below, btw)

see? I told you!
The Ease of Usage
Since this is a Japanese product, the instructions are in Japanese (the downside of purchasing a foreign made product). The good thing is that there are many sites online that translate the instructions to english (just google it). But I honestly don't think you need to read the instructions because there is a picture of a girl preparing the solution. The cartoon picture of the girl preparing the dye is, I believe, enough (especially if you are like me and have home-colored your hair before).
The dye applicator is also nice. It is a comb like applicator that allows your to comb the product through your hair, and spread it. The product application process is pretty smooth =]. The ONLY downside though, is that if you have thick hair (like me) or long hair (like me) one box IS NOT be enough! I ran out of product very quickly... I only did half of my hair! So I tried really hard to spread the product throughout my top layers (and of course it turned out horrible). So, if you have thick or long hair, buy two (downside: its a bit pricey)!
The Smell & Sensation
The smell of the product is very tolerable (quite nice, and not too strong). I have smelt MUCH worse. The dye contains bleach, so it
has
to smell some bit. Like other hair dyes and bleaches, the dye does sting your eye a bit when you dye your fringe or around that area (So never EVER wear contacts when you dye your hair! It can blind you!). But that is mostly due to the bleach and the peroxide in the dye that lightens your hair. Also be careful when you put the solution on your scalp, it does sting!
The Wait Time
Many hair dyes I've tried requires you to leave the product on your hair for 45 minutes for a certain result. I was surprised when I read that you only need to leave Palty on for 15-30 minutes (depending on the result you want your hair to be). After 5 minutes, you can already see your hair lighten up, which is amazing!.
The Results
I was rather surprise at how quickly the dye began to work (chemicals, chemicals!). I can actually see changes in my hair color while still applying the product. I left the dye in for 30 minutes (my hair was a very dark brown streaked with very light brown, and a very VERY little bit of ash blonde; I wanted to achieve a strawberry-blonde like color using this dye). While the dye processes, I applied some heat to my hair with a blow dryer. (hair lightens faster when faced with heat. That is why scalps lighten faster than the rest of your hair-- the heat from your head promotes the lightening).
Anyways, my dark brown hair turn out to look this like after 30 minutes:

Don't laugh! I told you I ran out of product!
How damaged is my hair after usage? Honest, not much. This product is gentle to the hair... MUCH gentler than just bleach. I honestly don't think my hair feels so much more drier than it was... but maybe its because it is the conditioners and treatments I used... alas, I do think this hair dye is more gentle than many of the other I've used-- and more effective.
My final rating?
4/5
I really do like this hair dye, but you know what? It is pricey... If I were to dye my hair properly next time with Palty, I would have to buy two boxes.. around $31! Maybe its just me, but $14-$16 for a hair dye, sometimes more, is very expensive. I'm very used to purchasing $7 hair dyes... and Palty is double that cost. And yes, I do believe that the cost brings down the rating by one point...
But overall, Palty is a very good hair-dye. I would recommend purchasing this, if you have the money to do so, or if you have short or thin, medium length hair.
[EDIT] 2/25/10
By the way, this is how my hair came out:


(Oh, and this is also the look of the day =P)
Click Here for the tutorial